There have been two big stories in the news the past little while. One is that it has been really hot out and the other is that I am really stupid. Now admittedly it's not that Peter Mansbridge (or whoever fills in for him when he's getting his head waxed) starts the National by saying "Tonight – heat wave continues all over Canada and Jonathan Rudin is really stupid." It's just that I am reminded of my lack of intelligence whenever the discussion turns – as it has done a lot lately – to the Higgs boson.
I admit I started a bit behind on this whole thing. You see I thought people were talking about the Higgs bosom and I didn't know who Higgs was but I figured it was just some amply endowed starlet and I had no need to keep up with the story since I focus my entrainment news on the comings and goings of Justin Bieber – the greatest entertainer in the world.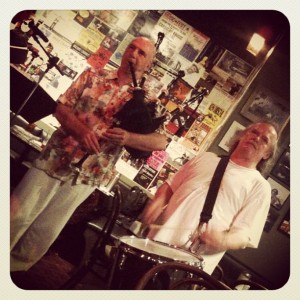 Then when I realized my mistake I thought they were talking about abut the Higgs bosun – bosun being a shorthand for the term boatswain – I read buccaneering books when I was a kid, that's how I know this – and again I really didn't care about some lowly deckhand named Higgs on some ship.
So when I finally realized they were talking about the Higgs boson I read everything I could about it and realized I didn't understand anything anyone was saying. I know that the whole thing has something to do with the Large Hadron Collider located somewhere underground in Europe – but I thought Hadron was a character from Lord of the Rings and I couldn't figure out who he was colliding with and why.
Then I read and listened to all the interviews with very smart scientists who were asked things like, "Could you please explain the significance of the Higgs boson to ordinary people" and I didn't get it at all. All these smart people said things like "Imagine all the photons and the atoms floating in a room full of maple syrup" and I just got totally confused (and hungry). But since this was the explanation for ordinary people and I couldn't get it I figured the real story was I was just stupid.
I'm coping as best I can with the knowledge that everyone in the universe – including those stupid little photons – now understands the Higgs boson even though I don't have a clue. The way I cope is by reminding myself of what I do know.
I do know the names of the four original members of the Ramones (Joey, Johnny, Dee Dee and Tommy if you weren't sure) and I know what the Latin phrase "de minimis non curat lex" means – but I can't tell you if you're not a lawyer because that's all I remember from three years of law school and I'm not giving that away for nothing.
I also know I am part of Gordon's Acoustic Living Room who will be playing its monthly show at the Free Times Café on Sunday, July 15. I also know that the Free Times is at College and Major (just west of Spadina) and that the show starts at 8 and there is no cover. And also if its hot out – there is air conditioning.
So come see the show – it'll be fun and its not rocket science – or whatever type of science that Higgs thing is all about.
– Jonathan Rudin
July 15th Set List
Set #1
Set #2
Pipe Set
Heatwave
Summer Breeze
I Like It
Ashokan Farewell
Water Is Wide
London Homesick Blues
Ventura
A Prayer
Breathe In
Cry If You Want To
When The Night
It's A Long Way To The Top
Rock N Roll Music
The Night They Drove Old Dixie Down
Pancho's Lament
Mary's Prayer
Diamond Girl
Piobaireachd
People Are Crazy
It's Not Love
Too Young
Orange Blossom Special
Lodestar
Glenora Ferry